Mini Beef and Guinness Pies are delicious individual-sized savory pies that are perfect for any occasion. These pies are made with tender chunks of beef, rich Guinness beer, and flavorful herbs and spices, all encased in a buttery pastry crust.
One of the key ingredients in these pies is the beef. It is important to use good quality, lean beef that will become tender and flavorful when cooked slowly. The beef is first seared to lock in the juices and then cooked in Guinness beer, which adds a deep, rich flavor to the filling. The beer also helps to tenderize the meat, resulting in melt-in-your-mouth beef.
Ingredients:
750g lean beef, cut into small chunks
1 onion, diced
2 cloves of garlic, minced
250ml Guinness beer
250ml beef stock
2 tablespoons tomato paste
1 tablespoon Worcestershire sauce
1 teaspoon dried thyme
1 teaspoon dried rosemary
Salt and pepper, to taste
500g puff pastry
1 egg, beaten (for egg wash)
Instructions:
In a large pan, heat some oil over medium heat. Add the diced onion and minced garlic, and cook until softened.
Add the beef to the pan and cook until browned on all sides. Season with salt and pepper.
Pour in the Guinness beer and beef stock, and add the tomato paste, Worcestershire sauce, thyme, and rosemary. Stir well to combine.
Bring the mixture to a simmer, then reduce the heat to low. Cover the pan and let it simmer gently for about 2 hours, or until the beef is tender.
Preheat the oven to 200°C (400°F).
Roll out the puff pastry on a floured surface and cut out circles to fit your mini pie dishes.
Spoon the beef filling into the dishes, then cover with the pastry circles. Press the edges of the pastry together to seal the pies.
Brush the tops of the pies with the beaten egg to create a golden, shiny crust.
Bake the pies in the preheated oven for about 20-25 minutes, or until the pastry is golden brown and crispy.
Remove the pies from the oven and let them cool slightly before serving.
These Mini Beef and Guinness Pies can be enjoyed as a main course accompanied by mashed potatoes and vegetables, or served as an appetizer at a party or gathering. They are sure to impress your guests with their rich, hearty flavor and flaky pastry crust. So next time you're craving a comforting, savory pie, give these Mini Beef and Guinness Pies a try!
The Origins and History of Beef and Guinness Pies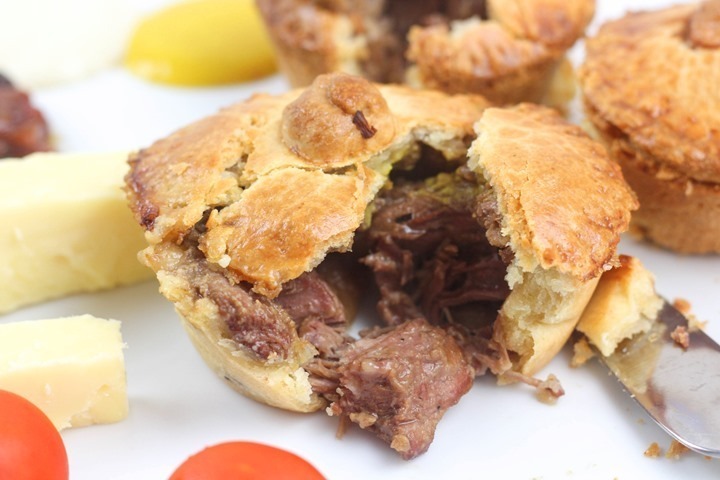 The use of Guinness stout in cooking can be traced back to the 18th century, when Arthur Guinness established his brewery in Dublin, Ireland. Guinness stout was not only enjoyed as a beverage, but also used as an ingredient in various recipes. The richness and depth of flavor that Guinness stout brings to dishes make it a popular choice for creating flavorful dishes, such as the Beef and Guinness pie.
The pie typically consists of chunks of beef that are slow-cooked in Guinness stout, along with onions, carrots, and other vegetables.
The filling is then encased in a buttery pastry crust and baked to golden perfection.
Traditionally, Beef and Guinness pies were known as "steak and stout" pies, highlighting the importance of the stout in adding flavor and depth to the dish.
Over the years, the recipe for Beef and Guinness pies has evolved, with different variations and additions, but the core concept of using beef and Guinness stout remains the same.
Ingredients:
– Beef
– Guinness stout
– Onions
– Carrots
– Pastry crust
Today, Beef and Guinness pies are enjoyed not only in the UK and Ireland but also around the world. They are a popular dish in pubs and restaurants, often served with mashed potatoes or a side of vegetables. The combination of tender beef, flavorful Guinness stout, and buttery pastry makes these pies a comforting and satisfying meal.