Are you looking for a delicious and easy-to-make appetizer that will impress your guests? Look no further than this Cheesy Buffalo Chicken Dip recipe! This mouthwatering dip is a perfect combination of creamy cheese, tangy buffalo sauce, and tender chicken, creating a flavor explosion in every bite.
To make this irresistible dip, you will need the following ingredients:
2 cups cooked chicken, shredded
1 cup buffalo sauce
8 ounces cream cheese, softened
1 cup ranch dressing
1 cup shredded cheddar cheese
1/2 cup crumbled blue cheese
1/4 cup chopped green onions
Tortilla chips or celery sticks, for serving
To prepare the Cheesy Buffalo Chicken Dip, simply follow these steps:
Preheat your oven to 350°F (175°C).
In a bowl, combine the shredded chicken and buffalo sauce. Mix well to ensure the chicken is coated with the sauce.
In a separate bowl, mix together the cream cheese and ranch dressing until smooth.
Add the chicken mixture, shredded cheddar cheese, blue cheese, and green onions to the cream cheese mixture. Stir until all the ingredients are well combined.
Transfer the dip to a baking dish and spread it evenly.
Bake in the preheated oven for 20-25 minutes, or until the dip is hot and bubbly.
Remove from the oven and let it cool for a few minutes before serving.
Serve the Cheesy Buffalo Chicken Dip with tortilla chips or celery sticks for dipping.
Whether you're hosting a party or simply craving a delicious snack, this Cheesy Buffalo Chicken Dip is a crowd pleaser. Its creamy, tangy, and cheesy flavors are guaranteed to satisfy every taste bud. Give it a try and prepare to be amazed!
Ingredients
Chicken: The recipe calls for cooked chicken, either shredded or diced. This adds a protein-rich element to the dip.
Cream Cheese: Cream cheese is the primary base of the dip, giving it a creamy and smooth texture.
Cheddar Cheese: Cheddar cheese is used to enhance the cheesiness of the dish. It is typically shredded and mixed in with the other ingredients.
Hot Sauce: Hot sauce is an essential component of any buffalo chicken dish. It adds a spicy kick and enhances the overall flavor profile.
Ranch Dressing: This ingredient adds a tangy and creamy element to the dip, balancing out the heat from the hot sauce.
Blue Cheese: Some recipes call for blue cheese crumbles to be sprinkled on top of the dip. This adds a rich and salty taste.
Green Onions: Green onions, also known as scallions, can be used as a garnish for the dip. They add a fresh and onion-like flavor.
Celery: Celery sticks are commonly served alongside buffalo chicken dip as a refreshing and crunchy accompaniment.
In addition to these main ingredients, the recipe may also require spices and seasonings such as garlic powder, onion powder, salt, and pepper to enhance the overall taste. It's important to have all the necessary ingredients prepared and ready before starting the cooking process to ensure a smooth and efficient cooking experience.
Instructions
Preheat the oven to 350 degrees Fahrenheit (175 degrees Celsius).
In a mixing bowl, combine the cooked and shredded chicken, cream cheese, ranch dressing, buffalo sauce, and shredded cheddar cheese. Stir well until all the ingredients are thoroughly combined.
Transfer the mixture to a greased baking dish, spreading it evenly.
In a separate bowl, combine the crushed crackers, melted butter, and Parmesan cheese. Mix well to create a crispy topping.
Sprinkle the cracker mixture over the chicken mixture in the baking dish.
Bake in the preheated oven for 25-30 minutes or until the dip is hot and bubbly, and the topping is golden brown.
Remove the dip from the oven and let it cool for a few minutes before serving.
Garnish with chopped green onions or parsley, if desired.
Serve the cheesy buffalo chicken dip warm with tortilla chips, celery sticks, or crusty bread for dipping.
Enjoy this flavorful and cheesy appetizer at your next party or gathering!
Serving Suggestions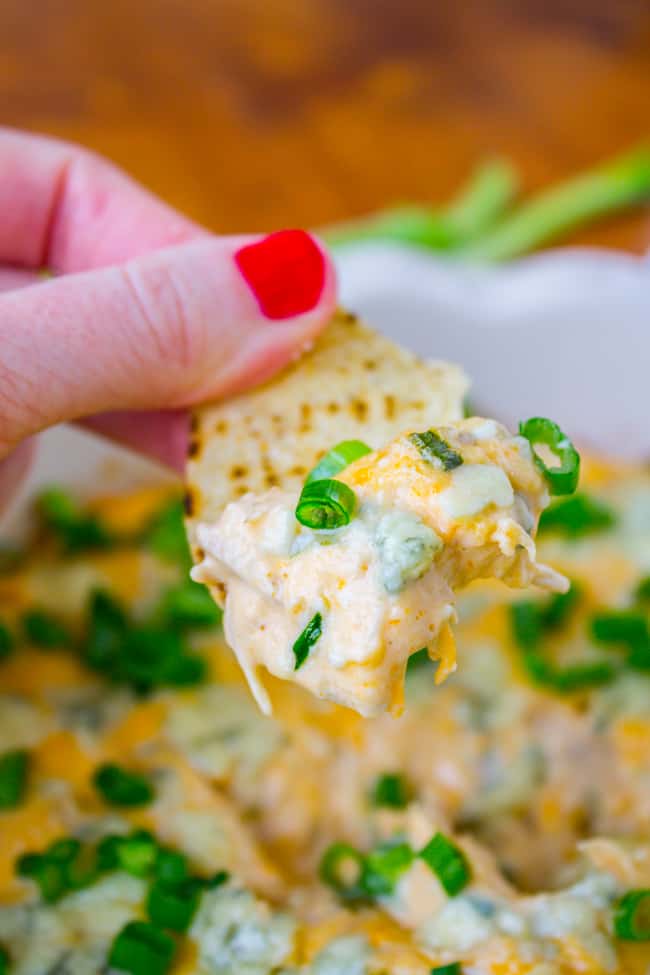 If you're looking to keep things simple, serve the dip with tortilla chips or pita bread. The crunchy texture of the chips or bread complements the creamy and flavorful dip. You can also try serving it with celery sticks or carrot sticks for a refreshing and healthy option.
If you want to add some variety to your spread, consider serving the dip as a topping or filling for other dishes. For example, you can use it as a spread for sliders or sandwiches. It adds a delicious and tangy flavor to grilled chicken burgers, pulled pork sliders, or even vegetable wraps.
If you're hosting a party and want to impress your guests, create a nacho bar with the Cheesy Buffalo Chicken Dip as one of the toppings. Lay out a variety of nacho chips, shredded cheese, diced tomatoes, sliced jalapenos, and other toppings. Let your guests assemble their own nachos and enjoy the combination of flavors.
For a more formal setting, serve the dip as an appetizer at a dinner party. Arrange a platter with the dip in the center and surround it with an assortment of bread, crackers, or crostini. The presentation will be elegant, and your guests can enjoy the dip as they mingle and socialize.
Regardless of how you choose to serve it, the Cheesy Buffalo Chicken Dip is a versatile and crowd-pleasing dish that is sure to be a hit. Whether you opt for a simple snack or a more elaborate spread, the combination of cheesy and spicy flavors will leave your guests wanting more.